Order
For children ages 1-3
85% bio meal with meat
100% bio meal
with meat
For children ages 3-7
85% bio meal with meat
100% bio meal
with meat
Vegetarian
For adults
News

Уважаеми клиенти,
Информираме Ви, че кухня "ЯМ ЯМ" продължава да работи при засилени мерки за сигурност и контрол. Екипът на "ЯМ ЯМ" работи отговорно и всеотдайно в тези трудни времена, за да приготви и достави прясно сготвена храна за децата и техните родители Всяка доставка пристига при Вас, опакована в плик, без контакт с околната среда. Вярвам, че извънредните мерки ще дадат резултати и скоро ще се върнем към нормален ритъм на живот. Благодарим Ви за доверието!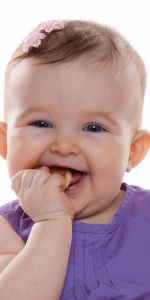 Welcome to children's kitchen YUM-YUM BIO!
YUM-YUM BIO is a private children's commercial kitchen, whose team, comprised of current and future parents – organizers, cooks and dietitians, is united by the ambitious goal to select and deliver only the best in foodstuff for children ages 1-7, allowing more time for communications between parent and child.

YUM-YUM BIO is the first children's kitchen where the menu is entirely (100% of each meal) or almost entirely (85% of each menu) from ecologically clean certified organic products. The menu is carefully designed by our nutritionist. The meals are prepared by steaming, boiling or baking in full accordance with the advice of the National Center of Public Health with the Public Health Department and the World Health Organization (WHO).

YUM-YUM BIO has the pleasure to offer our clients a choice of weekly and monthly packages and subscriptions, including home deliveries.

There are several specialists in child food and nutrition working for YUM-YUM BIO. Being familiar with the Bulgarian and international expertise in this field, they can offer the best for your children.

YUM-YUM BIO GUARANTEES:

- Healthy and varied food of high quality;

- Products from certified organic producers for 100% or 85% of the menu (depending on your choice);

- Original recipe meals specifically selected to cultivate a broad culinary palate for our young clients.

We feel the children deserve only the best, and will do everything possible for YUM-YUM BIO to guarantee it with its food.

YUM-YUM BIO started work in 2010 as a commercial kitchen for toddler and children's foods with a registration number Т223232292/09.12.2010 at the Regional Inspectorate for the Preservation and Control of Public Health. Until March 2012 the production facilities and the administrative offices of YUM-YUM BIO were situated in Dragalevtsi, thereafter it has been relocated to Lozenets, 11 Trepetlika str. The kitchen is registered with the Bulgarian Food and Safety Agency – reg. № 222500425, permit № 06476/14.03.2012.

The owner of the trade mark "YUM-YUM BIO" – "KAV Invest" Ltd. Holds Certificates for processing and marketing of organic products issued by BALKAN BIOCERT for 2013 (№03015/01.02.2013), 2014 (№03835/01.02.2014), 2015 (№04660/01. 02.2015), 2016 (BG72B,C/1-16/01.02.2016), and 2017-2018 (№BG728BC/1-17/30.01.2017). You can find the certificates in section \"Gallery\".